CytoCBD
CytoCBD is a health and wellness company that offers organic CBD products that are formulated with their own ingredients cultivated from their farms located in Eugene, OR. Their team of clinicians and scientists formulate their products together to create safe and effective products that work and are all manufactured at cGMP facilities that are registered by the U.S. FDA.
CytoCBD products cater to the consumers that want to take the guess work out of their cannabinoid products and place their trust in the brand that physicians all over the world have begun to endorse. CytoCBD is the only cannabinoid product line in the market that is made organically through innovative agricultural methods and expert clinical guidance. Natural, effective products that are safe and healthy for you to use – that is the CYTO Promise.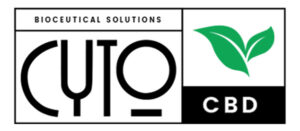 Center for Pain Management is excited to offer our patients CytoCBD's high quality, medical grade products at reasonable prices.
What is CBD?
CBD, also known as Cannabidiol, is an ingredient that is derived from the hemp plant (also called a phytocannabinoid). Our bodies are made up of the Endocannabinoid System (ECS), and we have natural cannabinoids in our body, like Anandamide, that balance this system. As we age, the levels of the natural endocannabinoids can decrease overtime, leaving the ECS unbalanced, and this can affect our pain levels, inflammation, lead to stress, anxiety, and poor sleep quality.
Phytocannabinoids, like CBD, can restore balance in the ECS, and therefore lead to relief in certain areas. CBD products have no euphoric or "high" effects and are simply designed to deliver relief in specific areas, including pain and inflammation. As more clinical data accrues to support the use of CBD in certain therapeutic areas, CPM is happy to offer high quality products through a unique partnership.
CytoCBD Oils
CytoCBD oils are taken sublingually, simply by taking the desired amount and letting it sit under the tongue for 10 seconds. Each dropper is marked with Cyto Precision Dosing, so you are getting the right dose, everytime. The Full and Broad Spectrum oils come with a rich phytocannabinoid profile, which deliver relief in many areas throughout the body. The specialty oils, Calm Waves & Good Night, are enhanced with other organic ingredients that work with the CBD to address anxiety and better sleep, respectively.
CytoCBD Topicals
When it comes to pain relief, targeting pain directly at the source tends to work best. The CytoCBD Roll-Ons and Relief Cream are designed to deliver immediate relief as well as long term management with consistent application.
CytoCBD Relief Softgels (Water-Soluble)
CytoCBD has teamed up with VESIsorb delivery technology to create an easy to use dosage form in our relief softgels. The high quality, medical grade CytoCBD is combined with water-soluble VESIsorb technology to increase absorption in the body up to 4X! The consumers that may have some trouble with the oils find the softgels as a great alternative!
For more information on CytoCBD, please visit https://cytocbd.com